True Story Book Club: Fire Season: Field Notes from a Wilderness Lookout by Philip Connors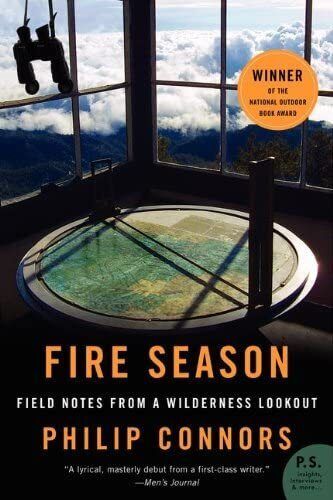 A decade ago Philip Connors left work as an editor at the Wall Street Journal and talked his way into a job far from the streets of lower Manhattan: working as one of the last fire lookouts in America. Spending nearly half the year in a 7' x 7' tower, 10,000 feet above sea level in remote New Mexico, his tasks were simple: keep watch over one of the most fire-prone forests in the country and sound the alarm at the first sign of smoke.
Fire Season is Connors's remarkable reflection on work, our place in the wild, and the charms of solitude. The landscape over which he keeps watch is rugged and roadless — it was the first region in the world to be officially placed off limits to industrial machines — and it typically gets hit by lightning more than 30,000 times per year. Connors recounts his days and nights in this forbidding land, untethered from the comforts of modern life: the eerie pleasure of being alone in his glass-walled perch with only his dog Alice for company; occasional visits from smokejumpers and long-distance hikers; the strange dance of communion and wariness with bears, elk, and other wild creatures; trips to visit the hidden graves of buffalo soldiers slain during the Apache wars of the nineteenth century; and always the majesty and might of lightning storms and untamed fire. Written with narrative verve and startling beauty, and filled with reflections on his literary forebears who also served as lookouts — among them Edward Abbey, Jack Kerouac, and Gary Snyder — Fire Season is a book to stand the test of time.