Tax Forms news
For Tax Forms and tax information, see Senator Joe Pittman's office at 618 Philadelphia Street, 724-357-0105. Tax Forms were delivered to Senator Joe Pittman's office during the COVID-19 closure on March 14th to ensure the availability of forms to the public. Also, see online forms at irs.gov.
Grab N Go Service
All library materials are now available to you. IFL will take orders by phone 724-465-8841 Ext 0 or email at IFLGrabNGo@indianafreelibrary.org for up to 5 items. Library materials will be bagged and available for pick-up. You will get a call when the books are ready and schedule your pick-up time at the ground floor entrance. We ask that only one person may be in the entrance for safety. You will find your materials bagged and labeled just to the right of the door in the entranceway to Grab N Go. All materials can be returned in the Book Drop at the same entrance. They will be wiped down and quarantined in a separate area and not checked in for awhile No fines are taken at this time. The library will be quarantining materials after return for a minimum of five days [72 hours is the suggested time for plastic surfaces] before checking in and returning to the shelves. Our goal is to keep you safe while you can again enjoy your favorite reads. Thank you for your patience.
Hours are Monday 4 - 7 PM, Tuesday, Wednesday, and Saturday from 11 am - 3 pm.
________________________________________________________________________________________________________________________________________
Computers by Appointment
A Computers By Appointment program begins May 23rd and will be available during Grab N Go weekday hours from 4 - 7 PM on Mondays and from 11 AM - 3 PM on Tuesdays and Wednesdays. Patrons will be scheduled for one hour of computer time. All computer areas will be cleaned in between appointments so there will be no extension of time. A mask will be required to enter the building and use computers. For printing, please bring exact change or money needed for printing or copying as no change will be available. Patrons will enter through the ground floor entrance shared with the museum and use the stairs or elevator to enter the library through the second-floor side door. There will be no entrance into other parts of the library. Call the library to schedule an appointment at 724-465-8841 Ext 113.
Text Anti-Racism and Black Life In America
The Indiana Free Library recognizes the importance of race, privilege, and black life in our community. To help our patrons, we have created an "Anti-Racism and Black Life in America" shelf on cloudLibrary. These resources have been chosen to help our community understand how to advocate for our black communities, to better understand the lives of black Americans, and to help families have conversations together. Visit our collection at yourcloudlibrary.com and look for our Featured section to find these titles. 
If you want to be in the know about what's going on at our organization, you've come to the right place.
News
* Tax Forms are available at Senator Joe Pittman's office!
Due to the Coronavirus, the library is serving our community through online programs and services for safety during closure on the building to patrons. We are offering a Grab N Go service for the distribution of library material and computers by appointment. You will be able to call in or email requests for books and other materials and pick them up at the ground floor entrance to the building. We will package your pick-up, with a limit of 5 items, in labeled plastic bags on shelves inside the entrance door. We ask that only ONE person-at-a-time be in the entrance area for safe distancing. Hours for pick-ups: Monday 4 PM - 7 PM, Wednesdays 11 AM - 3 PM, Saturday 11 AM - 3 PM. NO Interlibrary Loan requests are being taken at this time.
.
Gov. Tom Wolf has recorded a special message inviting Pennsylvanians to connect with their local public library's SummerQuest program. In it, he also reads a popular children's book I Just Like You by Suzanne Bloom (Boyds Mills Press, 2018). Bloom's book uses pencil and watercolor artwork of young animals to communicate a message of tolerance and acceptance.

Learn more about what is happening at the library in the Summer 2020 Newsletter.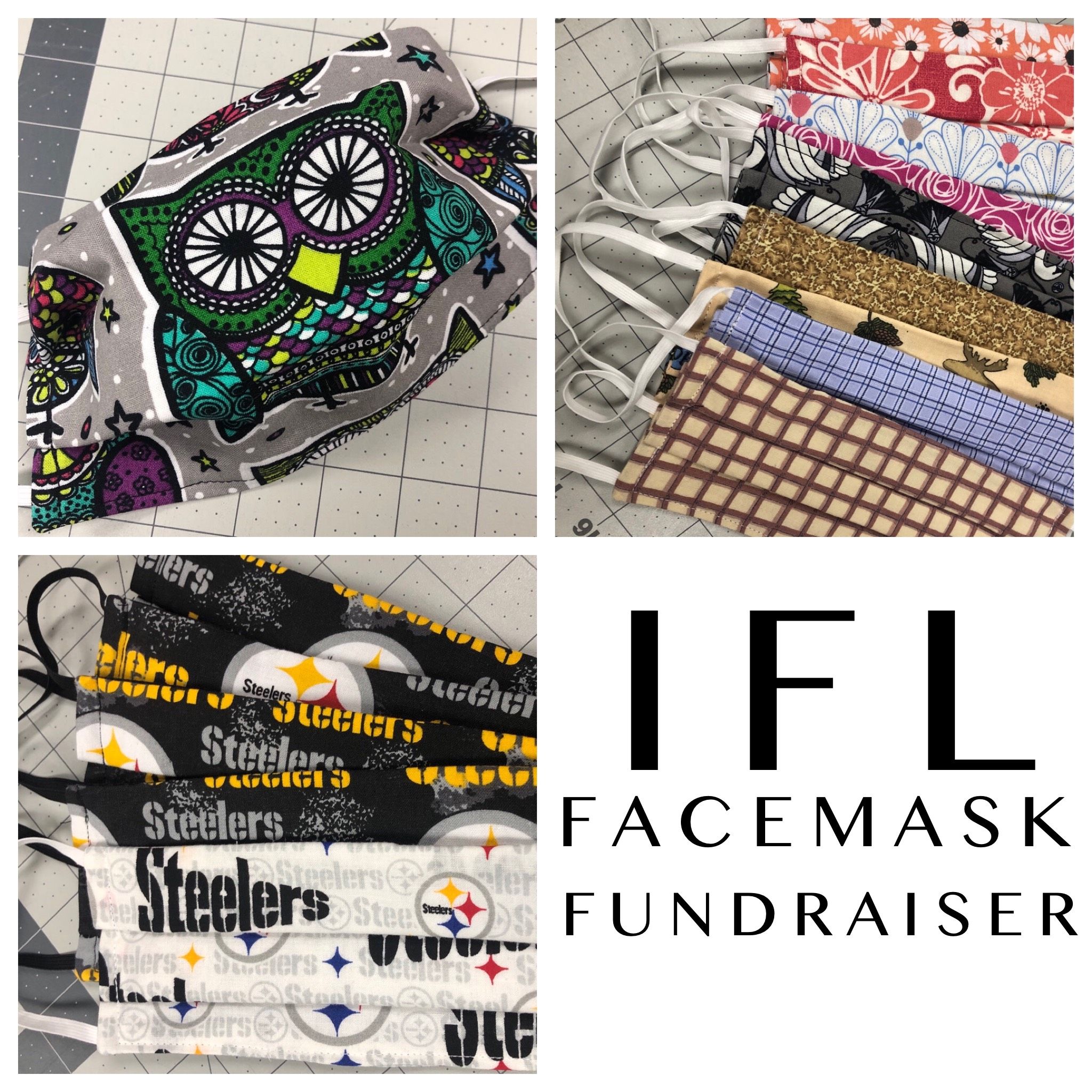 There are a limited number of facemasks available as a fundraiser for Indiana Free Library!
The library had just launched an Owl Campaign before the time of closure. We continue our Owl Campaign on Facebook for Giving Tuesday and beyond. We know that libraries are a place where people gather, meet & greet, and enjoy interactions that build community. During this pandemic is not a time to provide that interaction. We support our community in every way possible during this time through our safe online offerings and hope to soon be able to offer complete services again. Will you help us sustain until then by purchasing an owl and keeping us going. Thank you for knowing how much that means!
Take part in one of our many online Book Clubs!
Did you know our book clubs are still happening even while we're closed? Yes!! We are still offering our five book clubs and we are meeting online on Zoom to discuss them. You can access many of the titles digitally on the cloudLibrary or you can call our Grab N Go Service at 724-465-8841 or email us at iflgrabngo@indianafreelibrary.org and let us know which club you would like to join and you can come in and pickup your books! Our book club offerings are:
The True Story Book Club in which we talk about true events and stories from around the world in any time period on the first Tuesday of every month at 11 AM. You can also email iflkidsfun@gmail.com for a Zoom invite.
The IFL Book Club, our most popular club of all, meets the second Monday of each month at 7 PM. You may also email iflteens@gmail.com for a Zoom invite. 
The We Be Book N' Tween Book Club which meets the third Monday of each month at 7 PM so that our younger members can get their homework done. Email the library or iflkidsfun@gmail.com for a Zoom invite.
Our popular American History Book Club which discusses events and people in American history on the 4th Tuesday of every month at 11 AM. iflkidsfun@gmail.com works for a Zoom invite as well as the library's address.
And the lively Classics Book Club meets the last Thursday of each month at 10:30 AM. You can email iflteens@gmail.com for an invite.