National Library Week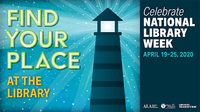 Find Your Place at the Library: National Library Week April 19-25, 2020
The theme for National Library Week 2020, "Find your place at the library," was chosen some time ago, before any of us could imagine the emergence of a global pandemic that would force most libraries to temporarily close their physical spaces.  But you can still find your place at the library because libraries are open for business online, providing the virtual services and digital content their communities need more than ever. You can access ebooks, movies, music, video games, virtual storytimes and activities, and so much more — all from the comfort of your home.  Watch our website to see what the Indiana Free Library is doing for National Library Week!