Checkers Library TV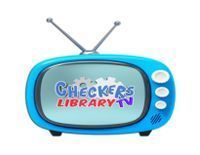 Checkers TV is a weekly educational entertainment program featuring Checkers the Inventor, his robot sidekick, Snoozer, and a variety of special visitors including medical professionals, community leaders, police and fire men and women, and other special guests in highly-produced 30 minute episodes. Each weekly episode also includes segments featuring storytelling, author interviews, art projects, science experiments, interactive games, contests, comedy, magic, and exciting short films that will have children on the edge of their seats.
Prepare yourselves for an awesome adventure as Checkers and his side kick, Snoozer explore extinct animals!

Checkers and Snoozer are back! Today's Mission? Traveling to a safari to meet real life desert animals! Along the way, they will complete animal crafts, learn exciting information and check out some spectacular books.

Topics: Camel with Komodo Dragon, Tortoise, Coyote

Checkers and Snoozer are back once again. This time, they are learning all about pets! They'll be reviewing pet books, learning more about domestic animals, and once again avoiding the perils of the beast of Fuzzleland!

Checkers the Inventor and his robot pal, Snoozer, are headed to a wildlife center to learn all about the animals that inhabit Forests. Join them for this incredible adventure as they meet Foxes, Porcupines and Owls!

Ready for winter yet? Ahhh. Checkers and Snoozer will get you there! Polar Bears and Penguins! Checkers and Snoozer are on their way to meet both of these incredible animals in one amazing day! Come along on today's road trip as they read books and learn all about animals that live in cold climates

https://www.sciencekids.co.nz/science...

https://www.worldwildlife.org/stories...