As a result of the Coronavirus pandemic, all in-house events, such as storytimes and regular events have been moved to a virtual setting until our board of directors deems it safe for all of us to resume our normal in-house programming. Some of these activities like Book Babies, Storytime at the Hen House, and The Craft House Arts & Crafts Club are available online through our website and on our Facebook page When the day finally comes that we can resume in-house library programming and events, we will notify the community through all means available--the Indiana Gazette, this website, our local radio station at WDAD at 100.3 FM, and our Facebook page. Thank you for your understanding and check out what we have in store for Fall 2021!
IFL Storytime Programs
Book Babies is our virtual program for babies and toddlers--kids aged birth to 24 months, and provides a fun way to spend time with your children while introducing them to the six early literacy skills necessary for reading and writing. The first literacy skill Print Motivation is taught by showing children that reading is special and something to look forward to. By listening to rhyming stories, fingerplays, and songs, children are gaining Phonological Awareness. Print Awareness comes from watching books being handled and pages being turned. As we read and talk about the stories we are teaching Narrative Skills. Vocabulary is enhanced as we read books on various topics and sing songs. Letter Knowledge comes from the alphabet and other letter books we read. Book Babies is available to watch on this website at 11 AM on Monday mornings.
Storytime at the Hen House is a fun virtual program geared towards kids aged two through five and helps those children along with some of the reading and physical skills they will need when they start school. We'll learn how to use scissors and glue, clean up after ourselves, learn how to tell time, how to read and arrange a calendar, and other similar daily skills kids will need to prepare for pre-school or kindergarten. There might be random visits from the house chickens during story-time who love to listen to the stories while they snack on their cheese. Story-time will be 15-30 minutes with an easy craft time afterwards. The program will be posted to the IFL website before 3 PM on Tuesday afternoons.
The Craft House is a virtual arts & craft program for kids aged six through twelve. Together, we'll explore the wondrous world of arts & crafts  while we work on some cool projects of our own! We'll also learn a little about the great artists that lived long ago and the ones that are still with us!  All of our projects will be made with materials that can easily be found in your own home, Wal-Mart, or the Dollar Store. The Craft House will be available on this website and on the IFL Facebook page each Thursday after 3 PM.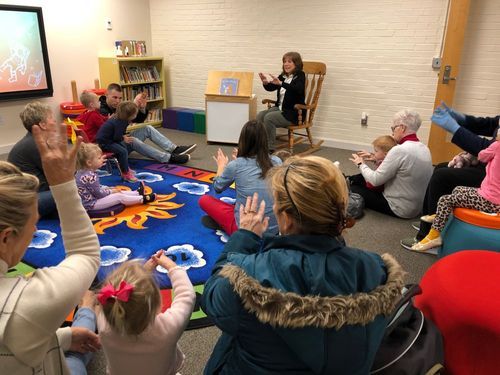 Programs for all ages are offered throughout the year and a complete schedule and themes are available in the library, on our website, and on our Facebook page. All three weekly programs are free and open to the public and can be accessed on the IFL Website or on Facebook. A library card and registration are not required.
When your kids watch our storytimes, they are gaining the skills to be a life-long reader! Be sure to check out the descriptions and schedule below to see what programs you and your kids may be interested in!
IFL Family Programs
Information for dates, times, and themes of events in our Family Program section can be found on our calendar located on this website.  Information can also be found on our Facebook Page. Like and follow us on Facebook so that you have the latest library programming news!