Zoom in to American History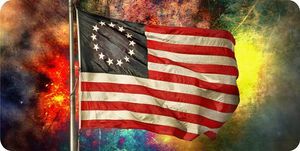 Hello! I'm Val! I usually work as the Youth Services librarian, but I am also an historian with a master's in history from IUP. I take my title seriously and hope to promote enlightenment and profound discussion on the events and characters that have set our country apart from any other in the history of the world.
We will read titles with the subjects ranging from early North American settlements and colonial days through the modern era.  Please email me (Val) at iflkidsfun@gmail.com with your name and email address so you may be added to the book club member list. Hard copies of the next month's meeting titles will be available after each meeting. You do not need to take part in the meeting, but I do need to know if you want to read the books so that I can order enough copies for everyone. I also need to know if you would like special materials such as a large print or audiobook versions. Sometimes, these are available to us. 
When the materials arrive, I will process them for checkout and you will then be notified when you can come in and pick it up. Please be aware that because of Covid, I am not in the library every day, so there may be a lag in the availability of the materials. Our GrabNGo service can be found at 724-465-8841 or iflgrabngo@indianafreelibrary.org. Please state that you want the American History Book Club book, the date of the meeting, and the title so that the librarians can get the right material to you. Thanks for your interest and keep reading!! It is so important for the preservation of our unique American culture!
>>>If you are member of our book club and have provided me with your email address, you will automatically receive an invitation to the Zoom meeting. If you aren't a member yet, please email me (Val) at iflkidsfun@gmail.com at least the evening before the Zoom meeting so that I can include you in the invite.<<<
Our schedule for 2021 is (Click here for a downloadable copy of the schedule):
January 26th: Final Countdown: NASA and the End of the Space Shuttle Program by Pat Duggins (The author will sit in on our meeting). (264 pp)
February 23rd: Five Days: The Fiery Reckoning of an American City by Wes Moore (273 pp)
March 23rd: The Moundbuilders: Ancient Peoples of Eastern North American by George R. Milner (224 pp)
April 27th: A Land So Strange: The Epic Journey of Cabeza de Vaca by Andres Resendez (336 pp)
May 25th: A Kingdom Strange: The Brief and Tragic History of the Lost Colony of Roanoke by James Horn (304 pp)
June 22nd: Love and Hate in Jamestown: John Smith, Pocahontas, and the Start of a New Nation by David A Price (304 pp)
July 27th: A Storm of Witchcraft: The Salem Trials and the American Experience by Emerson W. Baker (416 pp)
August 24th: Into the American Woods: Negotiations on the Pennsylvania Frontier by James H. Merrell (464 pp)
September 28th: A Few Acres of Snow: The Saga of the French and Indian Wars by Robert Leckie (388 pp)
October 26th: The Scratch of a Pen: 1763 and the Transformation of North America by Colin G. Calloway (240 pp)
November 23rd: Thomas Jefferson and the Tripoli Pirates: The Forgotten War that Changed American History by Brian Kilmeade (304 pp)
December 28th: The Birth of Modern Politics: Andrew Jackson, John Quincy Adams, and the Election of 1828 by Lynn Hudson Parsons (277 pp)