We Be Book N' Tween Book Club!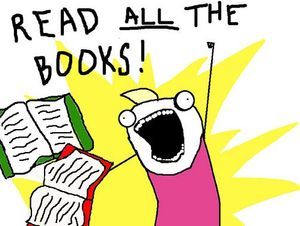 All books have an age rating from the website of Goodreads.com and will be stated along with the title. If you have questions of whether or not the title is appropriate for your child, you may view the summary of each book by clicking here where the age rating will also be visible. Please read these summaries carefully if you have a concern about the material and your child's reading level.  I was one of those kids who read Moby Dick and 20,000 Leagues Under the Sea when I was about ten years old and thoroughly enjoyed them. Meanwhile, my daughter didn't get into Harry Potter until she was well into her teens, so I know very well that every child has completely different tastes and reading levels.
Please email me (Val) at iflkidsfun@gmail.com with your name and email address so you may be added to the book club member list. Hard copies of the next month's meeting titles will be available after each meeting. You do not need to take part in the meeting, but I do need to know if you want to read the books so that I can order enough copies for everyone. I also need to know if you would like special materials such as a large print or audiobook versions. Sometimes, these are available to us. 
When the materials arrive, I will process them for checkout and you will then be notified when you can come in and pick it up. Please be aware that because of Covid, I am not in the library every day, so there may be a lag in the availability of the materials. Our GrabNGo service can be found at 724-465-8841 or iflgrabngo@indianafreelibrary.org. Please state that you want the We Be Book N' Book Club book, the date of the meeting, and the title so that the librarians can get the right material to you. 
**Please email me (Val) if you have questions. Like I said, I am not in the Children's Department every day, so I'm not able to take or return phone calls or messages in a timely manner. Email is the quickest way to an answer. That email is: Iflkidsfun@gmail.com.
>>>If you are member of our book club and have provided me with your email address, you will automatically receive an invitation to the Zoom meeting. If you aren't a member yet, please email me (Val) at iflkidsfun@gmail.com at least the evening before the Zoom meeting so that I can include you in the invite.<<<
Our 2021 schedule is:
January 18th: Wish by Barbara O'Connor (256 pp, ages 9-12)
February 15th: Doll Bones by Holly Black (272 pp, ages 10-14)
March 15th: My Family Divided: One Girl's Journey of Home, Loss, and Hope by Diane Guerro, and Erica Moroz (256 pp, ages 10-14)
April 19th: New Kids by Jerry Craft (Juvenile Graphic Novel, 256 pp, ages 8-12)
May 17th: Circus Mirandus by Cassie Beasley (320 pp, ages 9-12)
June 21st: Wolf Hollow by Mauren Wolk (320 pp, ages 10-13)
July 19th: Fly Girls (Young Reader's Edition): How Five Daring Women Defied All Odds and Made Aviation History by Keith O'briend (320 pp, ages 10-up)
August 16th: The Woman's Hour (Adapted for Young Readers): Our Fight for the Right to Vote by Elaine Weiss (224 pp, ages 8-12)
September 20th: Inside Out and Back Again by Thanhha Lai (288 pp, ages 8-12)
October 18th: The Boy in the Striped Pajamas by John Boyne (215 pp, ages 12-up)
November 15th: Beyond the Bright Sea by Lauren Wolk (320 pp, ages 10-13)
December 20th Compass South: A Graphic Novle (Four Points Series, Book 1) by Hope Larson (224 pp, Ages 10-12)
What should you think about when reading the book? Here are some questions that may come up in our discussions!
1. What did you like best about this book? 
2. What did you like least about this book? 
3. What other books did this remind you of? 
4. Which characters in the book did you like best?
5. Which characters did you like least? 
6. Share a favorite quote from the book. Why did this quote stand out? 
7. Would you read another book by this author? Why or why not?
8. If you got the chance to ask the author of this book one question, what would it be?
9. Which character in the book would you most like to meet?
10. Which places in the book would you most like to visit?
To view a complete list of book club discussion questions that make you really think about the book, visit: Book Riot at https://s2982.pcdn.co/wp-content/uploads/2020/12/printable-book-club-discussion-questions.pdf