True Story Book Club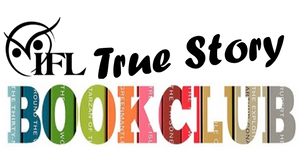 Please email me (Val) at iflkidsfun@gmail.com with your name and email address so you may be added to the book club member list. Hard copies of the next month's meeting titles will be available after each meeting. You do not need to take part in the meeting, but I do need to know if you want to read the books so that I can order enough copies for everyone. I also need to know if you would like special materials such as large print or audiobook versions. Sometimes, these are available to us. 
When the materials arrive, I will process them for checkout and you will then be notified when you can come in and pick it up. Please be aware that because of Covid, I am not in the library every day, so there may be a lag in the availability of the materials. Our GrabNGo service can be found at 724-465-8841 or iflgrabngo@indianafreelibrary.org. Please state that you want the True Story Book Club, the date of the meeting, and the title that interests you so that we can get you the right book.
>>>Please email me (Val) at iflkidsfun@gmail.com at least the evening before the Zoom meeting so that I know to include you in the invite. If you are already a member of the club, you will automatically get an invite.<<<
Here is the schedule for 2021 (Click here for a downloadable copy of the schedule):
January 5th - Just Don't Fall: A Hilariously True Story of Childhood, Cancer, Amputation, Romantic Yearning, Truth, and Olympic Greatness by Josh Sundquist  (336 pp)
February 2nd-The Real Diana: The Revealing Biography of the Princess of Wales by renowned Royal Biographer, Lady Colin Campbell (348 pp)
March 2nd-  438 Days: An Extraordinary True Story of Survival at Sea by Jonathan Franklin (288 pp)
April 6th- Titanic: Voices from the Disaster by Deborah Hopkinson (301 pp)
May 4th-  Goodbye to All That: An Autobiography by Robert Graves (347 pp)
June 1st-  Not Without My Daughter: The Harrowing True Story of a Mother's Courage by Betty Mahmoody  and William Hoffer (420 pp)
July 6th -  Charlie Chaplin: A Brief Life (Ackroyd's Brief Lives) by Peter Ackroyd  (304 pp)
August 3rd – Sybil Exposed: The Extraordinary Story behind the Famous Multiple Personality Case by Debbie Nathan (320 pp)
September 7th -  I Heard You Paint Houses: Frank "The Irishman" Sheeran & Closing the Case on Jimmy Hoffa by Charles Brandt  (384 pp)
October 5th -  H.J. Heinz: A Biography by Quentin R. Skrabec Jr. (291 pp)
November 2nd -  Captive of the Labyrinth: Sarah L. Winchester, Heiress to the Rifle Fortune by Mary Jo Ignoffo (280 pp)
December 7th -  My Father's Paradise : A Son's Search for his Jewish Past in Kurdish Iraq by Sabar, Ariel (369 pp)