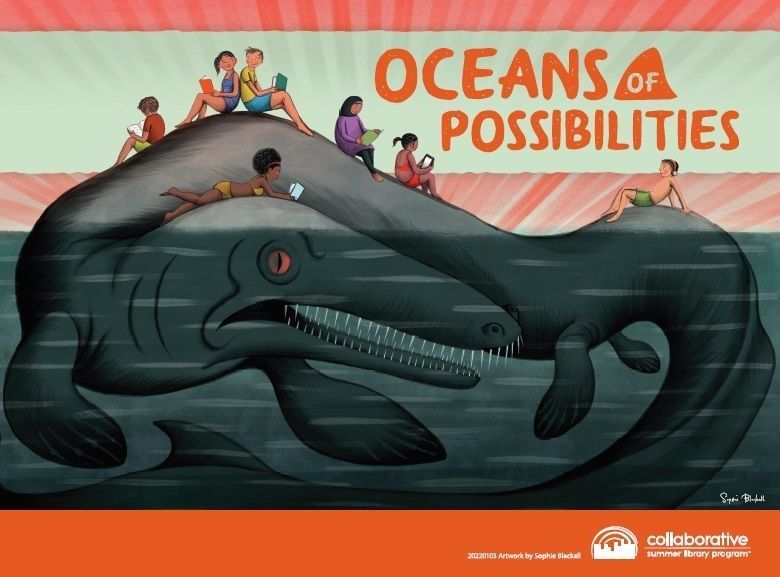 Join us for our fun and (Dare I say it?) educational summer reading program this year!!
Our theme this year is Oceans of Possibilities and we'll doing lots of fun things related to the ocean and our lakes and rivers including reading about mythical ocean creatures, learning about all the critters in our coral reefs, making sea monster slime and other ocean crafts, studying sharks, pretending to be pirates in search of treasure, and much, much more! 
Our Oceans of Possibilities Weekly Schedule
On Monday's, our Tweens and Teens will meet in the Library's Community Room at 2 PM for Summer at Camp Half-Blood.  
Our Terrific Tuesday program is for those kids aged birth to 5 years old and will take place at the Indiana Community Gardens at Mack Park on each Tuesday starting at 11 AM and running till about 1 PM. There is a small pavilion, many small flower and vegetable gardens, and outdoor play stations for our use at the park. Besides storytime, the program will include an easy craft time with all materials provided and the freedom to explore the community gardens for as long as you want.
Wild Wednesdays is a family event with the presentations and activities geared mainly for those kids aged 6-12. We'll meet at the Waterworks Conservation Area once again every Wednesday at 11 and there is a nice pavilion, clean restrooms, and a large area to play outdoors, go on a bird walk, or explore Two Lick Creek and the nifty things at the Conservation Area. This program will include arts and crafts instruction with all materials provided and each week, a visit from a special guest. 
Please note:
Registration for Oceans of Possibilities is REQUIRED and will begin on May 23rd at 8 AM. You can find the Programs and Registration on the Event Calendar on this website under News & Events under the day and date of the program that you want to register for. (i.e. Registration for Terrific Tuesdays can be found on June 13th, click and you can register for all seven programs).If you don't have access to the internet, please stop in the Children's Department on any day that we are open and we will register you and your children.
**Since two of our three kid's programs are outdoors, please provide good contact information when registering in case of inclement weather conditions on the day of the program you are registered for. Wear clothes that you don't mind getting dirty, put on comfortable shoes that you can wear for hiking and exploring, bring sunscreen, bug spray, extra water, sunglasses, and any other necessities that you may need to enjoy the great outdoors with us. We'll let you know ahead of time if you need to bring or wear something special.
Speaking of wearing something special (at Special Events!!!)
Crick Critter Hunt II with the folks from Evergreen Conservancy will take place on July 9th at 11 AM at the pavilion at Tanoma AMD Site, 3900 Rayne Church Road, Tanoma, PA 15701. All ages are welcome. Registration is required as we will have a unique craft for participants.
Our Summer Reading Kick-Off Party will take place on June 13th starting at 10:30 AM at the Mack Park Pavilion.  Details on all our fun Oceans of Possibilities programs, games, and a light lunch will be served at the pavilion. Registration is REQUIRED for this event as a free swim in the Mack Park Pool beginning at 12:30 PM. 

Please note:
* You WILL have to be registered  to attend the Mack Park Kick-Off Party and Free Swim on June 13th and the Yellow Creek Wrap-Up Party on July 28th. Registration for these two events is separate so that we have a good number of those attending as we will serve lunch and refreshments at these two events.

** Registration for the Kick-Off Party will end at 5 PM on Saturday,  June 11th. You must be registered by that time or cannot attend the free swim. You can register here on this website or at the library before 5 PM on June 11th. Parents or guardians must also bring some form of photo ID with them so that all may enter the pool as the pool staff is required to check for an ID. For those who don't have internet and need to register in the library, you can do so at the main circulation desk or in the children's department. Hope to see you this summer!!

The Oceans of Possibilities Summer Reading Wrap-Up Party will be on Thursday, July 28th starting at 11 AM. Our location for this fun way to end our summer program will be the Beach Pavilion at Yellow Creek State Park. A light lunch, fun activities, lots of games, and close access to the beautiful Yellow Creek beach will be provided. Registration is required for this event also. 
Last, but certainly not least...
The Great Reading Adventure will take place again this year!
Win prizes from the library simply by racking up reading minutes each time you pick up a book! The Reading Adventure will be divided into four categories with different levels of reading minute goals for you to try and reach. Those categories are:
Birth-5-year-old kids (200 minutes)
6-11-year-old (500 minutes)
12+ (1000 minutes)
Adults will have their names placed in a raffle according to how many books they read.
The Great Reading Adventure will start on June 1st and run until July 31st. You can start registering your reading minutes on June 1st. Prizes will be available for pick-up in the library starting on August 3rd.
So, Ahoy Matie!!! Get ready for terrific and wild adventures on and under the sea this summer!