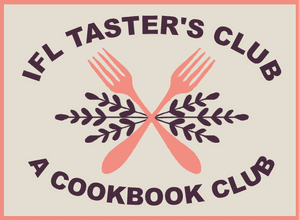 Make your plans to join us here at the library starting in January for our Taster's Club!! We will meet the first Wednesday of every month at Noon beginning on January 6th!
If you haven't been with us before, the way it works is: We will choose a cookbook for the following month's meeting from which to pick a recipe. Look through the book and choose a dish that you would like to make (Please, don't take the book from the library until after we use it for our meeting). Put your name on a post-it note and on the recipe that you would like to make. Please, only pick one and not one that someone else has already chosen. Take the cookbook to one of the librarians at the Circulation Desk and they will make a copy of your recipe for you so that you can make your dish at home. Now, you can prepare your dish and bring it in for the other members to sample on meeting day. We'll share our tips and critiques for each dish and then, choose another cookbook for the next month. Dishes, silverware, napkins, and  refreshments are provided for each meeting.
The library staff have missed the smell of good food on a Wednesday morning, so they'll be happy once more!! And we will, too!! We're finally getting back to in-house programs!! Thanks for being so patient everyone!!
(Yes, there is a cookbook out already from which to pick a recipe, so you have the month of December to prepare!!)