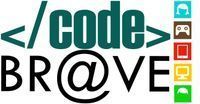 Join our Code brave workshops to practice coding, learn new skills, and build a community of coders. Students in grades 3-5 will meet from 4:30 – 5:30. The meetings will be on October 7, 14, 21, 28.
Registration is required and space is limited.
This program will take place at the library in the community room on the second floor. Students and staff will be required to wear a mask and social distance while in the library. The surfaces will be cleaned before each class.
Code Brave – a free coding program, open to 3th to 8th graders, is offered by the Indiana Free Library in collaboration with the American Association of University Women.